Topics in Tech is now a BentleyPlus Certified program.BentleyPlus gives students the tools and resources to be strategic about how they spend their time outside of the classroom to maximize their learning and growth while at Bentley.
CIS Sandbox Topics in Tech is a weekly series of conversations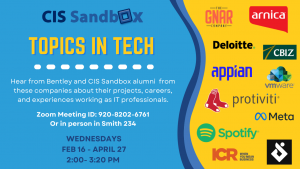 during the Spring 2022 semester connecting current Bentley students with alumni and tech leaders. Bentley alumni share their insights and experiences on a current tech trend, what it's like to work as an IT professional, and share their career journeys. Students and speakers may join in person or online.
Learn first-hand about a variety of high-tech careers, network with other students and IT professionals, and evaluate career paths you may wish to pursue. This speaker series is offered and promoted as an extracurricular program of the CIS Sandbox.
You can maximize your learning in competency areas you wish to develop:  educational/awareness, identity awareness, resilience, critical thinking, leadership and dialogue.
Look for all BentleyPlus Certified events on CampusGroups and build your skills outside the classroom!